How can Green Coffee Bean
Extract help me?
Are you in need of a weight loss product that actually works? Well you have finally found it! Green Coffee Bean Extract is one of the newest weight loss breakthroughs and has stormed through America. And it really WORKS!
Buy Green Coffee Bean Extract - Custom Health Labs
Studies have shown that Green Coffee Bean Extract can not only reduce body fat but also lower the chance of Diabetes and improve cariovascular health. People who participated in a study of Green Coffee Bean Extract lost over 10% of their total body weight without having to change their diet or exercise plan. Sound too good to be true? Try our exclusive blend that not only includes Green Coffee Bean Extract, with up to 45% Chlorogenic acid, but also several other proven weight loss ingredients to ensure the easiest and fastest weight loss. Speeding up weight loss has never been easier. Try some today!
What is Green Coffee Bean Extract?
The Key aspect of Green Coffee Bean Extract is the Chlorogenic acid. Regular Coffee that we drink is roasted, and the heat removes all the beneficial parts of the bean. Chlorogenic acid is considered a triple threat. It burns sugar and fat faster than any other acid, it teaches the body to release sugar into the bloodstream slower so it doesnt turn to fat, and it is an all natural and safe antioxidant. These traits of the extract are what give it the potential to improve cardiovascular health, reduce the risk of diabetes, and speed weight loss. Essential, Green Coffee Bean Extract both burns and blocks fat!

Green Coffee Bean Extract is meant for anyone who needs to lose weight. Whether it be a little or a lot, Green Coffee Bean Extract will help you on your way to a happy healthy lifestyle. Each bottle includes 60 Capsules, adults 18 and older should take 1 capsule twice daily for best reuslts.

Our Green Coffee Bean Extract is manufactured in the US in a facility that is FDA registered and GMP Certified. GMP stands for Good Manufacturing Practice and is a mark of the highest quality. This is definitely a hot product and going fast. Be sure to get a supply for yourself while you know you can. Check out our special deals below for Green Coffee Bean Extract and try it out today!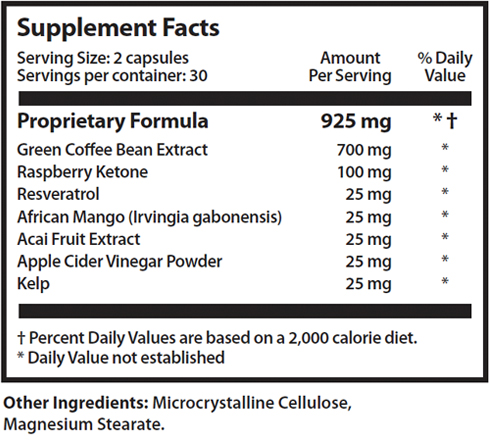 Suggested use: Take one capsule about 30 minutes before breakfast and take another capsule 30 minutes before lunch, each with a glass of water.
POWERFUL Ingredients!
What makes our formula the absolute best and most effective on the market? Our Green Coffee Bean Extract formula also includes a blend of other proven weight loss ingredients, making our product the BEST that you can buy on the market - guaranteed!
GREEN COFFEE EXTRACT
Unroasted extract containing Chlorogenic Acid, which helps speed weight loss.
RASPBERRY KETONE
Naturally occurring enzymes that interact with and help reduce fat cells in the body.
RESVERATROL
A natural polyphenolic compound which mimics the beneficial effects of calorie restriction.
AFRICAN MANGO
Extract from West African Mango seeds that helps reduce body weight, body fat, and waist circumference.
ACAI BERRY
Natural palm fruit rich in polyphenal and antioxidants, which have numerous proven health benefits.
APPLE CIDER VINEGAR
Derived from fermented pulverized apples which helps with high cholesterol and weight loss.
KELP
Sea vegetable rich in essential nutrients, such as calcium, potassium and iodine.

Your Stories

Real People, Real Results...
Don't take our word for it. Take a look at some of our many Green Coffee Bean Extract diet success stories....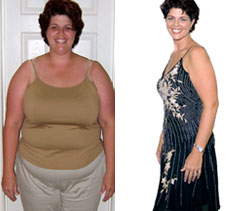 Alisa Cole
Chino Hills, CA
I was absolutely amazed at the results from using Green Coffee Bean Extract. I'm always skeptical of weight loss products…especially the new ones that come along every once in a while. I saw Green Coffee Extract while watching Dr. Oz endorse it on his show one day. I bought one of your bottles and after just 30 days I already saw a big different in my physique. After 90 days, as you can see from my before and after photos, the difference is stunning and the only thing I've been doing different is taking Green Coffee Extract on a daily basis.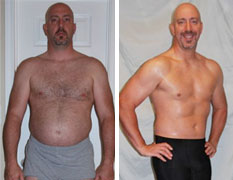 Steven Gray
Tampa, FL
I've tried many weight loss pills to try and slim down and obtain a more defined physique. To be honest, I have not had much success with anything I have tried, but now, I really feel I have found something that works…..Green Coffee Extract. I noticed immediate results after 2 weeks of taking it everyday. It's incredible! I really recommend Green Coffee Bean Extract!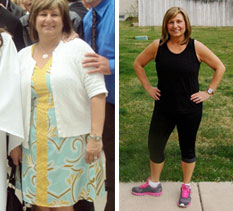 Katie Lund
Yakima, WA
Thank you so much! This product really does work. I have already lost over 35 lbs and I've only been using it for 2 months. I have been desperate to find a weight loss product that actually works for me. I think there are many good products like this pn the market that work for some…but I have a hard time finding one that works for me personally. Green Coffee Extract is it! I've seen a steady decrease in weight since I started using it 2 months ago, and I just hope it keeps going! I highly recommend Green Coffee Extract to anyone that is looking to shed those extra pounds fast!

How does Green Coffee Extract Compare?

GREEN COFFEE
BEAN EXTRACT
ALLI
SENSA
HOODIA
HCG
Clinically Proven Ingredients
No
Long-Term Results
No
No
Attacks Fat Cells
No
No
No
No
100% Natural
No
No
No
No
Recommended by Dr. Oz
No
No
No
No
90 Day Money Back Guarantee
No
No
No
No

Start Losing Weight TODAY!...