With Thanksgiving just next week, we have been thinking about all of the many things we have to be grateful for. Most of all, we are grateful for our amazing and loyal customers. To say thanks, we are offering 10% off all orders through Thanksgiving. See the coupon code in the picture.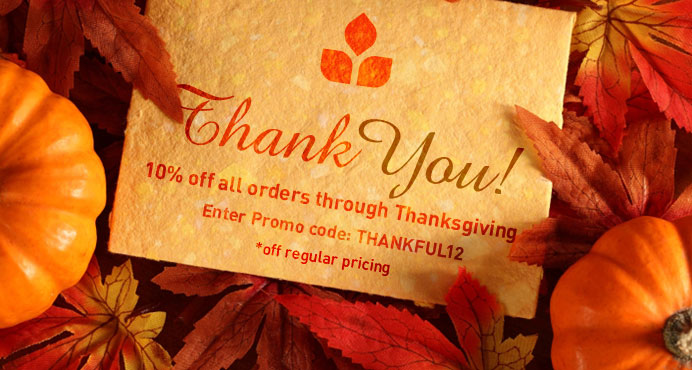 Sometimes it is worth slowing down from the fast past of everyday life and thinking about how blessed we have been. It really helps put things in perspective. Not only does listing the things you are grateful for help you feel good, but telling the people in our lives that we are grateful for them makes us (and them) feel great! Give thanks and make someone's day. It just might come back around to you one day.

Here is just a quick list of some things Custom Health Labs is thankful for:
A new warehouse and office space. We are moving in the next two weeks and are so excited about this opportunity to grow and have much needed space.

The beautiful mountains in Utah that look amazing in fall colors or under a cover of snow.

Local road construction finishing up and no longer having to deal with orange cones or detours on a daily basis.

Loving families that support us.

Opportunities to start new products and continuing to be able to provide high quality supplement products to our customers.

In house label printers. These are key to providing quick turn around times to our customers.

A growing supportive and loyal customer base. We would not be anywhere without you. To say thanks, we are offering 10% off all regular price orders right through Thanksgiving.
Thank you and happy holidays!