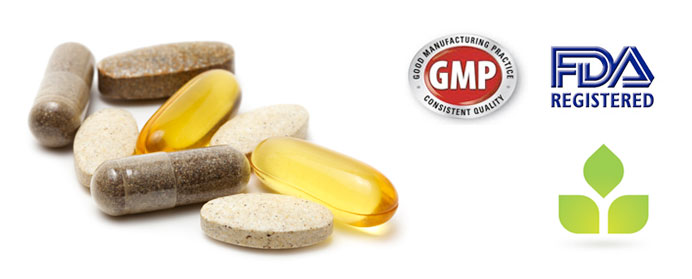 Whether you are currently a reseller or looking to get started, it is important to know about how the FDA is involved with dietary supplement manufacturing and distributing. The FDA, or the US Food and Drug Administration, is under the US Department of Health and Human Services and is the government agency responsible for regulating and ensuring safety of food and drug products. If you are looking to buy supplements or sell them, keep on reading to find out more about how this agency is involved with the dietary and nutritional supplement industry.
To start off, let's first define what dietary supplements are. The FDA defines a dietary supplement as "a product taken by mouth that contains a 'dietary ingredient' intended to supplement the diet. The 'dietary ingredients' in these products may include: vitamins, minerals, herbs or other botanicals, amino acids, and substances such as enzymes, organ tissues, glandulars, and metabolites. Dietary supplements can also be extracts or concentrates, and may be found in many forms such as tablets, capsules, softgels, gelcaps, liquids, or powders."

In 1994, the Dietary Supplement Health and Education Act (DSHEA) became a law which grouped dietary supplements under the umbrella "food" group. As a result, the FDA does not need to approve dietary supplements before they are marketed. It is the responsibility of the manufacturer and distributor to make sure that the dietary supplements they make or sell are safe and that any claims made about the products are backed by evidence and are not false or misleading. Have you ever noticed that supplements have this statement on the label: "These statements have not been evaluated by the Food and Drug Administration. This product is not intended to diagnose, treat, cure, or prevent any disease?" The DSHEA is behind it.

Items of note:
To ensure quality of dietary supplements, the FDA determined guidelines and regulations for manufacturing facilities to follow. The regulations "focus on practices that ensure the identity, purity, quality, strength and composition of dietary supplements." If a facility follows these, they are GMP, or Good Manufacturing Practice, Certified.

Although dietary supplements themselves are not registered with the FDA, the labs where they are manufactured should be FDA registered to ensure quality and safety.

All supplements that fall into this category must be labeled as a "Dietary Supplement."

Each label must contain the following information: a descriptive name and title as a supplement, name and place of manufacturer/packer/distributor, a complete list of ingredients, and net content of the product.

Check out this FAQ page on the FDA website for more information about this topic

Custom Health Labs, LLC is proud to say that all of our products are manufactured in the USA in a facility that is FDA registered and GMP certified. We make this a high priority as we know having high quality products is important to our customers. If you are looking for wholesale supplements, with or without a private label, look no further. Check out all of our hot products like Raspberry Ketone, African Mango, and Sports Nutrition Supplements here on our website.