Ever wonder what a private label is or what a private label means? Already know these answers and want to know how you can get involved? You have come to the right place. This week we are highlighting our great private labeling services which essentially allows resellers to create their own brand of products. Keep reading to find out more.

What is a private label? Basically, private labels are unique labels that are applied to an existing product (like ours). They are also commonly called custom labels or white labels. This is great for wholesalers who would want to protect their customer base from finding and using their supplier. The private label not only can look just the way you want it, but it would have your company and contact information on the product. This is a great way for people to get started in the supplement reselling business. You could work directly with our design team to develop and finalize a label with your company brand name, logo, and design.

Why use a private label? Like mentioned earlier, private labels help protect your customer base. They can also be key to re-selling the product. Quality and eye-catching labels are essential to having a hot product. Having a label that makes the product look appealing to a specific customer group can really help the product sell. Here at Custom Health Labs, you can work with our great design team to ensure your private label makes your product stand out and essentially sells more of the product. No one wants to buy a product with a dull or poor quality label. We all know what those look like unfortunately. Say goodbye to dull and cluttered labels as Custom Health Labs is here to assist you with all of your private labeling needs.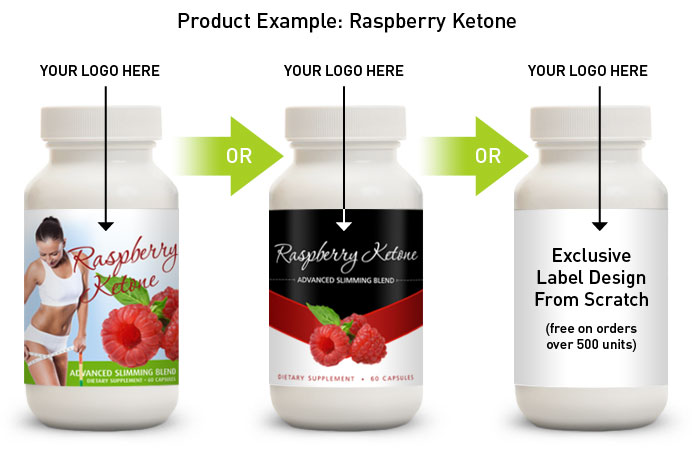 How do I get started? It is so easy! The minimum order for a private label is just 48 units of a product. This is a great amount for someone just getting started. The private label adds just 50 cents to the unit price. Simply select that you want the private label option when you check out! Our design team will contact you via email shortly afterwards to get the process started. It helps to have your company logo/design ready and an idea of what you want it to look like. For just 50 cents per unit, you will get to work with our design team to develop and finalize the label (artwork must be provided by customer), we will print the label for you, and we will apply it to your product before shipping it out. You can also choose from one of our existing designs and we will put your logo/info on it. If you want an exclusive label with artwork designed from scratch, there is a $250 design fee on orders under 500 units. Developing and finalizing the label usually takes only 1-2 days! Getting a private label has never been easier.


Check out all of our products available for a private label today! Happy Selling!