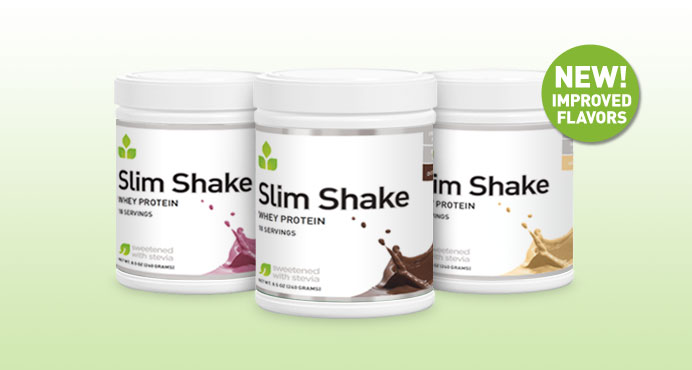 We now have our new and improved Whey Protein Slim Shakes instock and available for purchase. These new formulas mix much better and have a great taste and consistency you won't find anywhere else! Whey Protein is a hot product in the diet and supplement industry right now and this is something your company will not want to miss out on. Keep reading for more information about these great new products and how you can get involved.
Product Overview
Three flavors: Chocolate, Vanilla, and Berries n Cream

240g tubs with

18, 14g servings

55 calories per serving

8g of protein per serving

Low sodium!
What makes our shakes so special? There are tons of options for shakes out there on the market, why should you choose Custom Health Labs'?
Sweetened with Stevia - Stevia is a natural herb that is an approved calorie free sweetener. Check out this article for information on it's unique properties and health benefits.

Whey Protein - Whey Protein Isolate, the first ingredient in our formulas, has been shown to improve bone density, combat obesity, and help control blood glucose levels. Check out this recent article from WebMD for more information.

Our new Berries n Cream Slim Shakes contain real all natural fruit powder rather than "flavoring." It is quickly becoming our most popular product!

These new formulas have the best mix-ability we have ever come across for a shake. We have never experienced a shake that mixes this well with just water and after tasting it, you would swear it was mixed with milk instead.

Private Label Services - Our company specializes in private labels. Work with our design team to develop a label that fits your company's needs and helps your product sell! We assist with design, print, and apply labels. The minimum order is just 48 tubs and the label adds 50 cents to the unit price.

Interested? Check out this link on our website and click on the products for pricing and more information. Call us at 888-436-2130 or email us at info@customhealthlabs.com if you have questions!