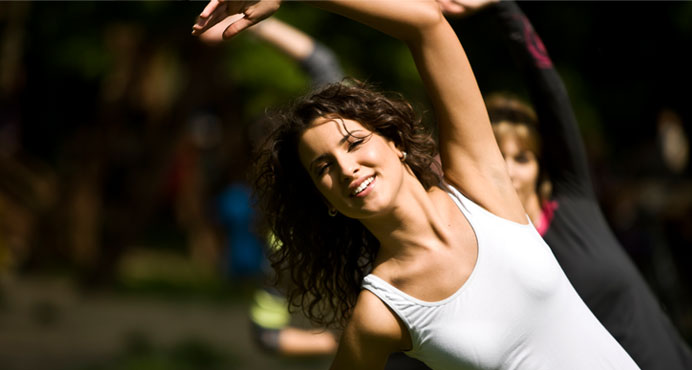 Whether you are a wholesaler of nutritional weight loss products or just someone wanting to make a change in their lifestyle to improve their health, it is important to know the proper amount of exercise needed to lose weight and maintain a healthy body. Products like our Raspberry Ketones and African Mango supplements have shown better results when used with an active lifestyle. If you are working to increase your sales or to shed some pounds, keep reading to find out more about exercise recommendations and how to successfully lose weight.
For adults, there are three different options for getting the proper amount of physical activity.
1 hour and 15 minutes (75 minutes) of

vigorous-intensity aerobic activity

(i.e., jogging or running) every week

and

muscle-strengthening activities

on 2 or more days a week that work all major muscle groups (legs, hips, back, abdomen, chest, shoulders, and arms).

An equivalent mix of moderate- and vigorous-intensity

aerobic activity

and

muscle-strengthening activities

on 2 or more days a week that work all major muscle groups (legs, hips, back, abdomen, chest, shoulders, and arms).

Check out this link from the CDC for examples of each of these options and what you can do to add this physcial activity into your life.

Here are a few tips of how to increase your physical activity - These may be helpful for you or for your customers!
Break up physical activity into smaller amounts. Even a 10 minute brisk walk adds to your total amount for the week.

Find a buddy to exercise with. Not only does this increase motivation, but it can be safer as well.

Start small and with what you can do. You will not become a marathon runner overnight. Getting in shape and losing weight takes time. Even if you can only just walk around your block, it is a good start. Once that becomes easy, try walking around two blocks, and then three etc.

Check out this link for ways to increase activity at your workplace. Many people find it hard to exercise when they work full time so check this out to get ideas on simple things you can do to get the exercise you need.
Find out what motivates you. Maybe you need a new product like African Mango or Raspberry Ketones to jumpstart your motivation to be more active. Maybe you have a large event coming up that you want to be thinner by. Whatever it is, use that motivation to your advantage.
Find support. Friends and family can be great support during this process. Share your goals and activities on facebook or another social media site to hold yourself accountable to them. Products like our Slim Shakes also provide great support for those trying to lose weight.

Do something you enjoy. Not everyone loves running or going to the gym. Find physical activities that you enjoy doing and you will find you will have more motivation to do them. There are sooooo many possibilities. You could go swimming, play a sport, go on a bike ride, do yoga or stretch, lift weights, do cross training, go rock climbing, or any number of things.

Have you tried and still not been successful? Check out this page by the CDC with ideas and suggestions on how to overcome specific barriers that keep us from exercising.

Already physically active and looking to improve your performance? Check out our line of Sports Nutrition Supplements today!

What are you waiting for? Go get started today!